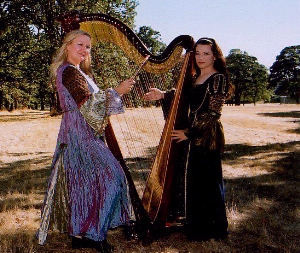 About Us
RoseWynde flute and harp duo has been a working group since 1998. We arrange our own music with a blend of our classical training with our love of Celtic and traditional folk tunes. Building a body of literature for this instrumentation through writing and arranging has been a primary focus of the group. Besides recording we have published four collections from our CD's through ALRY Music in Charlotte, North Carolina. Finding traditional Irish, Scottish, and American literature to arrange, record, and publish has been professionally and artistically satisfying.

Sandy Duffy Norman is an adjunct flute instructor at Western Oregon University and maintains her award winning private flute studio in Salem, Oregon. She performs, writes and records with RoseWynde, flute and harp duo, and has released seven CDs with a variety of artists. She was also a middle school band director for 15 years with the Silver Falls School District.

Sandy received her B.S.Mus and B.M.E. from Louisiana State University, continued with graduate studies at Western Oregon University. She is a member of B.M.I., belongs to the NAfME, NFA,MTNA/OMTA and serves on the board of the Greater Portland Flute Society.

Kathryn Cater, a graduate of Lewis and Clark in Portland, Oregon, is a performer, arranger, and composer. She has been composing since the age of seven, and most recently has published four books of harp songs for students. Kathryn has compositions and arrangements available through ALRY Publications and Afghan Press Publications. Kathryn teaches and composes in her studio on her century farm near Portland with her husband, Scott and their two daughters, Elizabeth and Diana.




History
RoseWynde has released five CDs under the Sunridge Studio label since they began performing together throughout the beautiful Willamette Valley in Oregon since 1998.
Their CDs include:

Walking Tune,





The Future
RoseWynde creates thematic concerts with our unique blend of Celtic music, lore, historical readings, and personal letters. Our goal is to build a series of concerts to be performed in community theater settings throughout Oregon and Washington.


Email RoseWynde
Home


RoseWynde 2016