Walking Tunes a Collection in 2003
Ashgrove - Banks of Sullane/Paiste Fionn - Simple Gifts


Music Descriptions

Harp parts can be used with piano if desired.
RoseWynde seeks to use a full dynamic range and an array
of classical and "Irish" ornaments. However, the player
should feel free to express their individual artistry.
Nearer My God to Thee and Rock of Ages
Two universally favorite hymns, Nearer My God to Thee and Rock of Ages, are arranged for flute and harp with original simplicity and beauty. Play it lightly and peacefully in the spirit of comfort, not mourning. Rock of Ages is to be played tenderly, simply, with unaffected sweetness.
Drowsy Maggie
Drowsy Maggie Medley is a concert work that gracefully brings together four Celtic tunes, Drowsy Maggie Reel, She Moved Through the Fair, Deirdre's Fancy Slip Jig, and Skye Boat Song. At nearly 8 minutes, this makes an ideal program or encore selection. The opening solo flute lament sets the tone of anticipation building to the very fast reel then moves to the tender mood of She Moved Through the Fair. In this piece the bass drone and ostinato should pulse to produce a hypnotic effect. The change to the slip jig rhythm should be sudden and dramatic. The second flute lament provides the transition from Deirdre's Fancy Slip Jig to Sea to Skye. The lament is played over a sound wash of bisbisgliandos, and only takes on a noticeably metric nature when the flutist begins Sea to Skye. Care must be taken at all transitions to establish new meters firmly. This work demands great pulse throughout, in the slow airs as well as the fast tempos. Play with style and passion.
Welcome Delightful Morn
Welcome Delightful Morn is a medley of early American Hymns, including Welcome Delightful Morn, Liberty, Morning Song, and Land of Rest. This is a wonderful concert piece with a variety of moods and tempo. This work needs to be performed with a lilting yet driving pulse, except for Morning Song, which is played more freely. Open harmonies suggest the open spaces of the prairie, and the rhythms impart the bright optimism of the early American spirit.
Winter Ayres Collection Inis Oir/ Aran Boat Song,
Hush My Babe/ Away In the Manger, and Month of January/
When the Snow and Frost Are All Over , is newly arranged music
for flute and harp. Inis Oir and Aran Boat Song are songs
from the Irish Isles of the same name. Hush My Babe/ Away In the Manger
is a soothing lullaby. The Month of January is a slow Irish air.
When the Snow and Frost Are All Over is a dark modal jig
that evokes the feeling of its title. These pieces are appropriate
any time beautiful soothing music is required.
The RoseWynde Christmas Collection is arranged
for flute, violin, and harp includes three upbeat tunes
that echo the joy of the season. Jeanette, Isabella,
the beloved 17th century French carol, is simple and charming.
A Sussex Carol, also known as On Christmas Night,
is an English carol with a strong dancing pulse throughout.
Here We Come A Wassailing Medley is a lively set
of Irish dance tunes, that includes Tripping Up the Stairs,
Mug of Brown Ale, and Bottom of the Punch Bowl.
Distant Ayres is made up of deeply touching arrangements
of familiar Celtic and Folk tunes that transports the listener
back to the days of childhood gardens and mates
to the nostalgic feel of summertime picnics with the family.
The Walking Tunes collection is ideal for weddings, receptions, and parties.
The traditional tunes, Ashgrove, Banks of Sullane/Paiste Fionn, and Simple Gifts, are reminiscent of the pastoral settings in the English countryside.


Sheet Music for Harp Students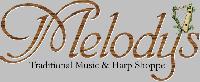 Harping Cats and Dogs,Singing Wings, Forever In Love With Horses, and Soaring Strings are four collections of songs for the beginning and intermediate harp students in a wide variety of moods and styles for lever or pedal harp. All pieces are two pages, from 24 to over 32 measures long. These books are high quality printings and are engraved in Finale, using a slightly enlarged note size for extra readability. Recordings of these works will be available soon.

Email RoseWynde
Home


RoseWynde 2016